Testimonial from Ted Armstrong, Washington
Just a quick note to thank you guys for a great trip.
The hotels were all excellent.
We especially enjoyed Ballynahinch castle in Ireland.
Cromlix House was our favourite in Scotland.
Austen is a great driver/guide and his attention to detail is exemplary.
He is a real asset to your company.
All the days were great, but the Dunluce castle day was amazing (and the scones were delicious).
Over Halloween we will be seeing a lot of friends and family.
We will be recommending Ireland and Scotland Luxury Tours to all of them.
The only way to see Ireland and Scotland is with a local driver/guide.
You guys are definitely the future of tourism.
Thank you so much.
Ted.
Testimonial from Ben Powers, Sacremento, CA
I had always dreamed of taking my family to Ireland.
We decided it would be good to see Scotland as well.
That's why we contacted Ireland and Scotland Luxury Tours!
What a great move that was.
From the outset we were included in planning what to do and see.
That made it interesting for the kids and we were able to watch them discover history.
Our hotels were all fantastic.
Our driver/guide looked after us like family.
The food was brilliant everywhere we went.
My wife and I are already planning a trip for our anniversary in 2019.
Ireland and Scotland Luxury Tours are as big a "hidden gem" as the sights they show you.
Ben and Jill
Testimonial from Randy & Kyt-Tee Kohout, Arizona
We completed our 14-day Ireland and Scotland Luxury Tour October 3, 2018 and without a doubt it was the best trip we have ever taken. While this was our first trip to Ireland and Scotland, we have travelled rather extensively through Europe.  We decided in July that we needed to make this trip so I went online looking for a company that would meet our needs.  It was there I found Ireland and Scotland Luxury Tours.  I read the pages of glowing testimonials and called Maurice Dowle to learn more.
Maurice was very helpful explaining his company's value proposition and what we should consider for our travel plans.  He assisted us with not only designing an itinerary that met our needs and interests, but also provided some valuable tips on booking flights on Aer Lingus.  During the planning process we had a lot of questions and Maurice was both prompt and patient with his replies.
Our flight to Dublin was delayed a bit but when we got to the hotel, Maurice had already called to check if we had arrived safely.  He had provided us a list of places we should see and it was our guide for the first two days.
On day three, our driver, Austen Hunter arrived to drive us across the island to Sheen Falls.  Austen is so much more than a driver.  He has lived a very interesting life, knows the history of the sites we visited, charmed us with his Irish humor and after almost two weeks became a dear friend.
We experienced 5-Star accommodations, fine dining and fun pub food through out the trip.  I highly recommend Ireland and Scotland Luxury Tours to anyone looking for a quality holiday with some wonderful people who truly care about their guests.  Everything written in the previous testimonials is absolutely true.  Maurice and Austen created a great travel experience and we are already thinking about our return trip with them.
Cheers and travel well!
Randy and Kyt-Tee Kohout
Oro Valley Arizona
Testimonial From Mindy Norman, Alabama
Dear Maurice,
I spent the weekend downloading the pictures from our recent trip to Ireland and Scotland and couldn't wait to write and thank you for such a fabulous experience!
Looking back at the pictures it became clear to me that each new stop quickly became my new favorite. From the hotels, castles, and historical sights we visited to the brown bread I fell in love with each morning, your careful planning and attention to detail truly made this trip a once in a lifetime experience.
I have no doubt we made the right choice in hiring a private chauffeur for our journey. Your selection of Austen as that chauffeur could not have been better. So full of knowledge and just enough blarney to keep us in stitches!
This is a trip I know I will be talking about for the rest of my life and rest assured I will be passing along your name to all my friends.
Please give Austen my sincere thanks, a big hello to Paddy and Murphy, and until next time I give you my most humble thank you for the trip of a lifetime.
Yours truly,
Mindy Norman
Mobile, Alabama
Testimonial From David And Amanda Putnam, Melbourne
We just wanted to thank you and the crew for a truly wonderful trip.
As holidays go , it was right up there !
The itinerary was perfect.
We avoided the tourist hot spots but still saw some truly amazing things.
What a great balance you have. A private tour is certainly the way to go.
Ireland is one of the most beautiful places I have ever seen.
Scotland wasn't too far behind.
The hotels were some of the best we have ever stayed in.
Great rooms , friendly and attentive staff.
Your driver , Nick , was a great guy.
He was so kind to us and we would love him to visit us here in Australia.
Watch this space !
Thank you very much Ireland and Scotland Luxury Tours.
Dave and Mandy
Testimonial From Roger Rossi, Toronto
We just got back from a fabulous two week tour of Ireland and Scotland.  We decided to splurge and hire a private driver/guide rather than pack into a bus tour or try to navigate the wrong side of narrow roads on our own.  Well we certainly are glad we did.  Maurice helped us customize our tour after taking into account what we were hoping to accomplish.  The tour exceeded our expectations.  We stayed in grand boutique hotels, found little known trails that took us over amazing water falls and took in some of the most beautiful countryside's.  Our drivers were walking, talking encyclopaedias of knowledge, Austin in Ireland and Jonny in Scotland.  We would highly recommend both of them.  They went out of their way to customize our trip for us and were always there for us whether we were looking for a local pub for a pint and some music or a great restaurant to finish off a full day.  If you want a luxury packed, relaxing tour then I highly recommend you give Maurice a call.
Testimonial - From Burt And Cindy Larong, Texas
Dear Maurice and Austen,
We just wanted to thank you from the bottom of our hearts for such a wonderful experience.
Dublin was great, and we enjoyed exploring it on our own (with your guidance notes of course)
But the trip really took off for us when Austen collected us from the Westbury.
Great scenery and brilliant commentary, without information overload.
All the hotels were superb and above our expectations.
But we think Sheen Falls was our favourite.
To travel around two such beautiful countries at our own pace was just so enjoyable.
We loved Scotland, but Ireland is just a very special place.
Thank you so very much and as we said we will be in touch about our trip in 2019.
Regards,
Burt and Cindy
Testimonial From Anita Bost
If you are planning a trip to Ireland and Scotland, look no further than Ireland Scotland Luxury tours.
This was a High School graduation gift for my niece (she just completed her freshman year, first trip abroad).
She wanted to sleep in a castle, seeing Ireland and Scotland.
From the first call to Maurice every detail was attended to, and no detail was too small. The National Bird of Prey
experience is one we will never forget!
Austen took care of us from Dublin to Edinburgh. He was our driver, guide and joke teller extraordinaire. He
made my niece feel special on her trip, and enjoyed tea with my mother, while we braved seeing the giant
causeway, gusting winds and all.
Book with Maurice and he will take care of the details, so you don't have to. He will make sure you have the
unique experience that you want. There is not a better way to see Ireland and Scotland than Ireland and Scotland Luxury Tours!
Testimonial From Lisa And Barry Stoddard, Baltimore
We had been thinking of visiting Ireland for a number of years.
Then we came across Ireland and Scotland Luxury Tours website.
Firstly, we reached out with a general enquiry and talked to Maurice.
He was excellent and suggested a 14-day tour of Ireland and Scotland.
The quote was very reasonable, and we decided to travel May 2018.
We have now returned home after the most enjoyable vacation you could imagine.
Every detail was worked out to perfection.
Our itinerary was spectacular and let us explore hidden gems all over both countries.
Our driver Colin was great fun and very accommodating.
The hotels were of a high standard and very well located.
What surprised us most was the food. It was delicious everywhere we went.
A big thank you to Ireland and Scotland Luxury Tours for help us to realize our dream, and then some!
Testimonial From James & Evelyn McCreery, Baltimore
Our trip to Ireland was superb!
Thanks to all at Ireland and Scotland Luxury Tours for making it happen.
Great hotels, great sights, great food, great fun.
The best vacation ever.
Thank you Nick, for all the driving and the hidden gems.
We will be back for sure.
James & Evelyn
Testimonial from Steve & Betty Fairborough, Kansas
We are still jet lagged!
But we wanted to get our thanks to you for a truly amazing tour.
Ireland was fantastic.
The routes we took, the hotels we stayed in all exceeded our expectations.
The way to see the country is definitely using a chauffeur drive company.
Let's you enjoy the scenery, takes the pressure of finding places – the only way to go.
Scotland was a surprise. I am glad we did it.
The ferry we took was so easy and very luxurious.
The journey was so quick.
Again, the hotels were superb, and the routes were so interesting.
Please pass on our thanks to Austen and Johnny.
We will be back soon.
Steve and Betty
Testimonial from Bill And Eleanor Riddle, New York
We made a last-minute decision in March to visit Ireland and Scotland in April.
It was obvious it was going to be difficult at such short notice.
Then we contacted Maurice at Ireland and Scotland Luxury Tours.
They made it happen, sorted our route, our hotels, and gave us a driver/guide.
The trip was exceptional, and we never expected to get the rooms we had let alone the hotels.
The route was perfect, and they had allowed for daylight and getting us comfortable before darkness fell.
We ate in "wee" pubs and restaurants and every meal was a success.
In 2019 we will be returning to Ireland and Scotland.
We have started planning now.
Look no further that Ireland and Scotland Luxury Tours if you want a great trip.
Testimonial from Frank & Jean Huffanagel, Dallas, Texas
We have just returned from the most wonderful tour of Ireland.
Organized by Ireland and Scotland Luxury Tours it was simply fantastic !
Our driver/guide Austen was unbelievable , full of knowledge and charm , and a very good driver.
The hotels were a great mix of castles and manor houses , and all 5 star luxury.
Ireland is probably the nicest place we have ever visited.
The scenery is breath taking and the people are wonderful.
Thank you Ireland and Scotland Luxury Tours for the experience of a lifetime.
We will be back !
Testimonial from Yvette O'Hagan, Boston
My Friend Ruby and I had always wanted to visit Ireland and Scotland.
We were talking about it with friends and they recommended Ireland and Scotland Luxury Tours.
From the first conversation with Maurice we felt comfortable and part of planning the trip.
The tour was even better than we expected.
Our route was brilliant, and we saw so much more than we ever thought we could. That was mostly due to our driver/guide Nicky.
The hotels were all superb and the food was excellent (especially the seafood).
Definitely the trip of a lifetime!
Thank you, Ireland and Scotland Luxury Tours.
Testimonial from George & Nancy Carter, Kentucky
Two years ago we had driven around Ireland , planned our own route and hotels.
Most of the time we were lost , had our heads buried in a map , or trying to get a signal on our GPS.
This year we hired Ireland and Scotland Luxury Tours to plan and execute our trip.
They were excellent.
Hotels were great , we saw a lot of "hidden gems" and it was very relaxing.
We concentrated on the West and South West and saw more than we could have hoped for.
We are already planning a trip to Scotland with them for 2019.
What more can we say !
We are now committed clients of Ireland and Scotland Luxury Tours
Testimonial From Ellen & Dennis Stanley, Greensboro
Testimonial from George & Nancy Carter, Kentucy
Our trip to Ireland was the best touring vacation we have ever experienced. Maurice, the owner of the luxury travel company designed a personalized tour that exceeded all of our expectations for sightseeing, accommodations, and excellent tour guidance.  Since we decided in August to take this trip in October, Maurice organized the wonderful tour in a shortened two month time frame.
Maurice provided us the best service we ever had in preparing for a trip. He handled all the arrangements for hotel reservations, booking us into beautiful luxury hotels with spectacular window views of marinas, waterfalls and a castle with views of a wooded river which were a travelling experience in themselves and far above the ordinary tour accommodations. He also developed a detailed touring schedule assuring that we experienced all the alluring and interesting places to visit and provided us with a personalized map indicating where we would be traveling . We weren't at all familiar with Ireland and had many questions which Maurice answered pleasantly and efficiently.
A tour is only as good as the tour guide and Maurice provided us with the best. Austin our tour guide was delightful and was totally responsible for making our trip unforgettable. He is a warm, friendly, funny and kind- hearted person who immediately made us feel very at ease and comfortable. He significantly enhanced our experience by providing  excellent background for the historical sites we visited, explaining the human history and the natural history of the beautiful countryside. He was indispensable in recommending places to eat and shop that allowed us to interact with the wonderful people of Ireland making the trip much more enjoyable. By the time the trip was over we felt we were good friends and we always remember him as a highlight of our trip.
If you desire to experience a tour of Ireland that encompasses all the best of this beautiful country and its delightful people, you can't do better than touring with Ireland and Scotland Luxury Tours.
Ellen and Dennis Stanley
Greensboro, North Carolina
Testimonial From the Murphy Family, Boston
Hard to even begin to put our celebrated trip into words, but here goes……
From the moment we landed and met Mo we were taken care of like family , and at many times , we felt elevated to rock star status.
We went where the tourists are not usually found , and saw Ireland through an amazing lens and through locals eyes.
We laughed our way through Isle of Green and packed it all it!
All accommodations exceeded our expectations.
Dinner suggestions along with must see points of interest were spot on –not to mention the hidden gems on the back roads that were always a great surprise.
Once we arrived in Scotland, Jonny also treated us like family and went out of his way to accommodate our requests.
St. Andrews was an add on and tailored to fit our needs , we once again saw the high points and did not get caught in the tourist traps.
We would highly recommend Ireland and Scotland Luxury Tours , and are still giddy from our trip across the pond.
Maurice and his staff are knowledgeable , friendly , cheeky , and professional at the same time.
Nancy – Julie – Joe
Boston, MA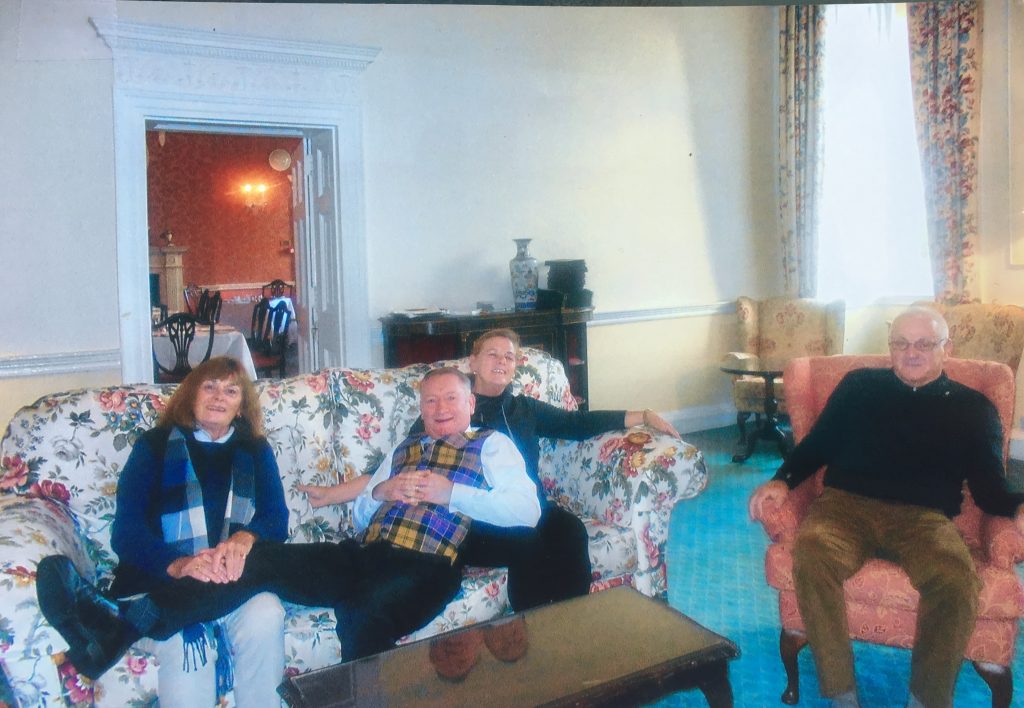 Testimonial From Jim & Roxanne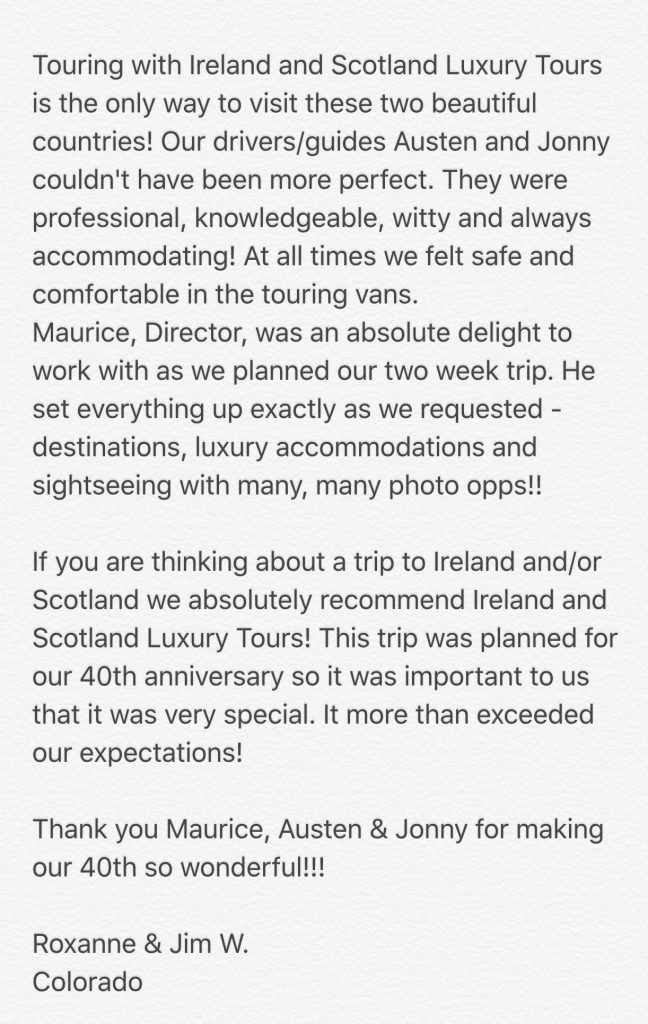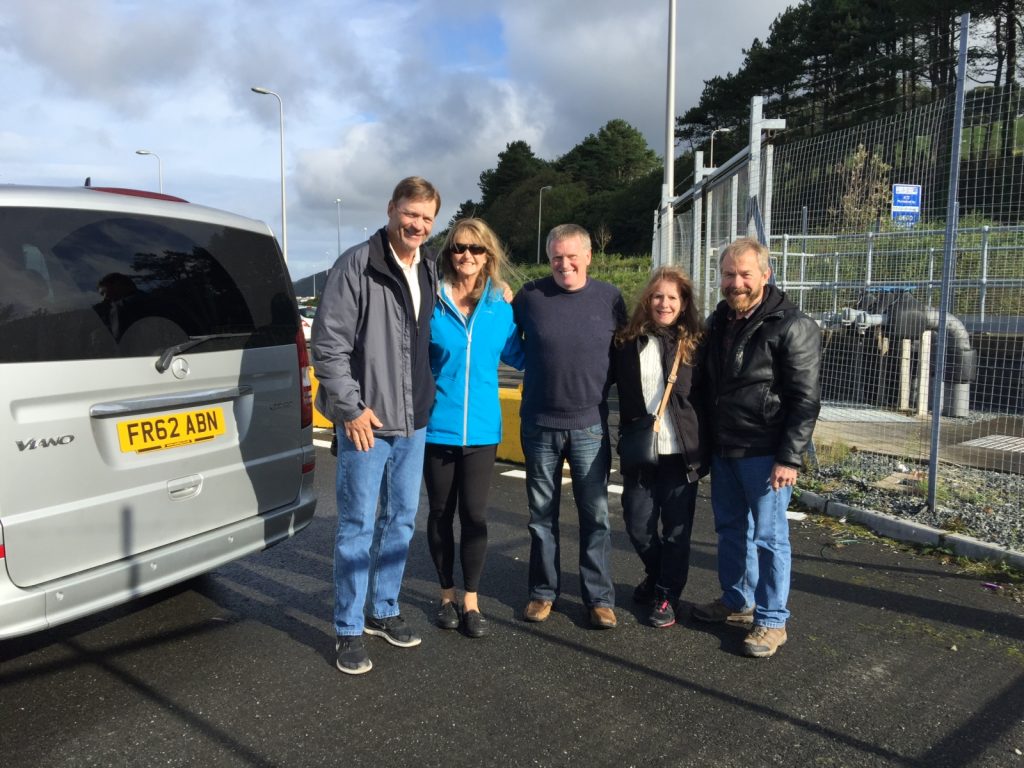 Testimonial From Bradley and Gluck, Newport Beach
Maurice,
We got back safe and sound and now have fond memories of this holiday.
Having travelled all over the world , you were right , Ireland and Scotland are very special if you see the authentic stuff.
We had a wonderful trip despite the rain in both countries (to be expected I suppose).
Nick in Ireland was a really kind, good man with a lot of patience.  He was most helpful in every sense.
Johnny in Scotland was an excellent guide who knew Scotland well.
Both drivers were great.
We truly enjoyed the beauty of Ireland and Scotland.
My husband finally saw the Dingle Peninsula – he was a happy man that day as we had perfect weather which enabled us to see for miles.
We loved in  the hotel choices.
We had one of the best meals ever at Kinloch Lodge in Skye.
We also had time to visit my family in Belfast, Gleneagles and in Glasgow.
We covered a lot of miles and saw so much.
Thank you and your drivers for a wonderful trip.
Ireland and Scotland Luxury Tours are a very professional outfit !
Sincerely,
Catherine Bradley
Testimonial From Miranda & Kristen
Hi Maurice,
Thanks so much for helping us plan our wonderful 10 day adventure to Ireland. Our first travel experience outside of the United States was made much easier with the help of Ireland and Scotland Luxury Tours. The accommodations exceeded our expectations and the scenic views and sights were all stunning! Our driver Austen always made sure we got a true sense of the local culture and historical significance at each place we visited, in addition to avoiding some of the "tourist trap" crowds. He also kept us entertained with his Irish humor. We highly recommend your tour service and we are already planning our next trip to see Northern Ireland and Scotland!
Thanks!
Miranda and Kristen
Testimonial From Matt and Carrie Miley, Mississippi
Where do I even begin?  We chose Ireland and Scotland Luxury Tours because we read the REVIEWS and felt comfortable with what knew about Maurice and his team!  We did not want to waste time with large tour groups, we wanted to see things that perhaps larger groups would not be able to, and we did not want to argue with each other over driving on the "right" side of the road/foreign roads/directions/maps!  We ABSOLUTELY made the right choice with this company!
Austen was our guide and he is hilarious!  He was ALWAYS on time, knew the areas well, knew the history, and we felt very safe and comfortable with him!  Maurice planned a fantastic variety of places — having a combination of the must-see sights as well as some of the lesser known sights.  Austen was realistic in knowing time frames and what works better.   He suggested the BEST pubs/restaurants and we loved them all!
To keep this short, I won't list our itinerary.  This was our first trip there and we were celebrating my husband's 40th birthday and our 13th wedding anniversary!  Having a local Irish singer sing Happy Birthday to you was funny and memorable!  We had a great time!  We spent 14 days in Ireland, Northern Ireland, and Scotland, and I can't tell you my favorite place because it was ALL amazing!!!  Every hotel was great.   Craft beers, the Cliffs, castles, golf courses, whiskey, ancient and recent history, Giant's Causeway, Loch Ness, the food — I could go on and on and write several pages!
I really can't say enough about how perfect the trip was!  Everyone was nice!  We look forward to another trip with Ireland & Scotland Luxury Tours in the future because 2 weeks was not enough time for us!  Thank you, Mo, for a wonderful experience!  You took the pain of planning away and made it very easy!  We were able to relax and just enjoy the vacation – instead of being stressed about the details.   Thank you, Austen, for putting up with us and being the best driver and guide!!!
You won't regret choosing Ireland & Scotland Luxury Tours!
Matt and Carrie Miley (from Clinton, Mississippi, USA)
Testimonial From Susen Blanton Dean, Carlsbad, California
I booked with Ireland and Scotland Luxury Tours on the recommendation of a friend.
They said that this company would look after us and make sure we saw the best of both countries.
It was actually far better than that!
Our driver Austin took care of us impeccably from the moment he collected us at the airport.
Our hotels were excellent and we loved every minute of the trip.
Our favorite place was Sheen Falls, though Ballynahinch Castle and Cameron House were not far behind.
These are top class hotels with all the charm you would expect in Ireland and Scotland.
If you want a tour of Ireland and Scotland that is truly high quality then I recommend these guys.
With all of the recommendations they will surely be busier than ever.
Testimonial From Mr And Mrs Peter Treselt, California
We were looking for a company that provided chauffeur driven tours of Ireland and Scotland.
We found Ireland and Scotland Luxury Tours on the internet.
After making an enquiry through the website Maurice contacted us by email.
He also spoke to us by phone a number of times.
Working with him we created a tour that gave us everything we wanted and a little extra.
The hotels were all four star and above.
We got to see great parts of Ireland and then move onto Scotland.
Everything was of the highest quality.
Our driver/guides were fantastic. We had Austen in Ireland and Johnny in Scotland.
It was nice to travel with a true Irishman and a true Scotsman, and they know all the best spots to see.
If you have never been to these countries and want to see them properly then Ireland and Scotland Luxury Tours is the company to use.
We are already planning to return as soon as possible.
Thank you all.
Testimonial From Tara Blair, Dana Point
We had a wonderful tour of Ireland with this company.
The itinerary was just what we had asked for.
The hotels were very good and the food was fantastic.
But the real success was the relationship with Austen our driver.
He made sure we saw the real Ireland, met the locals, and visited hidden gems.
To find ruined castles and churches on small back roads was exciting and we felt like explorers.
If you really want the trip of a lifetime look no further than Ireland and Scotland Luxury Tours.
At first we thought the price was above our budget, but we took a chance.
We certainly got value for money…. And then some!
Tara
Testimonial From Cheryl Blair Ballard, Dana Point
We booked a tour of Ireland and Scotland to see these countries for the first time.
We wanted the freedom of a private tour rather than the time constraints of a coach tour.
What we got was a tour that gave us input into the sights and plans.
Ireland is beautiful and Scotland was equal if not better.
Dublin was interesting and Edinburgh castle was one of the best we have ever seen.
But for us Kylemore Abbey was the winner.
Our vehicle was roomy and comfortable and our driver was wonderful.
Hotels were great and the people were so friendly.
If you want to get the best from both these countries try Ireland and Scotland Luxury Tours.
Cheryl
Testimonial From Jane & Russell Oldfield, Toronto
Dear Maurice ,
What a marvellous time we have shared with you !
Overall the trip was amazing.
The hotels in both Ireland and Scotland were amazing (above our expectations).
The itinerary was fantastic and we saw incredible sights.
Thank you for adjusting the trip as we went to let us enjoy the distilleries !
We enjoyed your jokes , teasing , and historical titbits.
You are an amazing ambassador for your country and culture.
Best wishes
Jane and Russell
Testimonial From Ann Marie & Marc Neeb
Maurice ,
A huge thank you for a great tour of Ireland and Scotland.
In particular we really appreciated your attention to detail and your commitment to making sure we got the best of the day.
The route was brilliant , the hotels superb , and the little places we stopped at were incredible.
We had a wonderful time in both countries.
It was definitely a 10 out of 10 experience.
We will recommend Ireland and Scotland Luxury Tours to all of our friends and colleagues.
Regards ,
Ann Marie and Marc
Testimonial From Janis Bell, Laguna Beach
Hi Maurice ,
Just to let you know what a wonderful tour of Ireland we had with Austen.
The route was perfect and each hotel seemed better than the last (and the first one was good !)
We loved the North coast and Kylemore Abbey was just so special.
The breakfasts were huge and real quality , and the pub food was great too.
We liked the traditional Irish music sessions , and the locals who just get up and sing were brilliant.
I feel that we have seen the REAL Ireland !
Thanks for everything and we hope to see you in 2017.
Janis
Testimonial From Tony Bottecchia, Toronto
Just a quick email to say thank you for our tour of Scotland.
We had never been to Scotland before , and boy did we choose the right company to see it.
Our experience was top notch.
Favourite places were definitely Loch Ness , the Highlands , and Edinburgh.
But it was all great.
Thank you so much Ireland and Scotland Luxury Tours.
Testimonial from Scott & Lisa Colyer, Colorado Springs
Our 2016  trip to Ireland and Scotland was absolutely top notch !
Maurice and his folks at Ireland and Scotland Luxury Tours attended to all the details and went overboard to make sure our vacation was very special to us.
They planned our itinerary , selected our hotels , and gave us practical tips to get more out of the trip.
Our driver , Austen , was passionate about his job and very helpful.
We saw all the hidden gems and listened to the most incredible music in local pubs.
We would definitely recommend Maurice to anyone who wants to enjoy a luxury vacation on Ireland or Scotland.
Scott and Lisa
Testimonial from the Ford Family, Wichita, Kansas - Jill Neff Ford
When you go on holiday you want to relax have fun and make memories.
This can be done on your own to some extent.
You can even go with the group on a tour bus. You will no doubt see everything on the brochure.
However what about meeting local people and learning about the area you are visiting ?
The best way to do that is with a personal guide.
Ireland and Scotland luxury tours has done this for my family and I twice.
Ireland is a small country but cannot possibly be explored completely in a matter of a few days. It truly takes multiple times.
Maurice Dowle and his company are amazing and made sure our holiday was like none other.
You learn more about the area than is even written. You learn the truth about myths and legends (depending upon who you talk to !! ) ,  and see places that aren't on a generic brochure.
He has special people on his team (thanks Austen) that cater to your specific areas of interest.
What better way to spend a holiday.
Plus you make new friends!
Testimonial from Cecil & Diane Jun
Dear Maurice,
Here we are, safely back home, listening to Irish drinking songs  with a glass of Irish whiskey in hand, reminiscing on the wonderful week we had in Ireland. It is indeed sunshine in a glass! It is a drink that magnified our joy and happiness in the recalling of the beautiful countryside and the friendliness and unfailing helpfulness of everyone we encountered. We enjoyed Dublin and its history and celebration of 100 years of independence. We felt we had seen the essential beauty of the country and its people. From the beginning, (fraught with should we should postpone or not due to personal reasons) to the end, you have been a gracious host.
Go raibh math agat,
Cecil and Diane
Testimonial from Julie & David Sharp
Dear Maurice,
Many thanks for making our trip to Ireland such a pleasurable experience. The hotels were excellent, the scenery magnificent, the weather Irish, the crowds non existent, and we thoroughly enjoyed your company. We will have no hesitation in recommending you to our friends.
So glad to see that Connacht made it!
Keep collecting.
Best wishes,
Julie and David
Testimonial from the Raisigs
Just to let you know that we had a wonderful time in Scotland.
Johnny was a superb driver/guide and looked after us very well.
We enjoyed Loch Lomond and Loch Ness but the highlight was Stirling castle.
Our hotel in Edinburgh was also fantastic and the castle is a must see for any visitor to the city.
Thanks again for everything.
We will be back soon to see Ireland !!
Testimonial from Linda & David Chaney
Mo,
Once again you and your staff have gone above and beyond in making our second tour with your company one of pure bliss!! This trip was a gift to our granddaughter for her 16th birthday. On our first phone call you listened to her wish list and then planned an itinerary that included as many of the sites/activities we could experience in our eleven day tour.  Megan smiled her way through the entire trip and will cherish it forever.
Each day provided so many wonderful views, experiences and memories: the Highlands countryside, Ben Nevis, cruising on Loch Ness, Urquhart Castle, Cairngorms, ferry ride to Northern Island, Belfast, the murals, Ballintoy Harbor, Dunluce Castle, Giants Causeway, Titanic Museum, Galway, Kylemore Abbey, Cliffs of Moher, Sheen Falls, Dingle Peninsula, Kenmare, Falconry, Blarney Stone, etc ….
The wonderful hotels and castles you reserved for us were second to none; Cameron House, Bunchrew House, Culloden Hotel, Ballynahinch Castle and Sheen Falls Lodge. The accommodations, food, and staff at each were excellent. The schedule you created allowed us time to engage in a leisurely breakfast or dinner, the grounds and rooms. We especially enjoyed our time at Sheen Falls Lodge. Megan and David loved participating in the falconry activity. Thanks for suggesting it Mo!
Most importantly our drivers, Johnnie in Scotland and Austen in Ireland, were top notch! We never felt rushed and loved all of the history lessons they so easily and knowledgeably provided.  They listened to our wants/needs and adjusted the day accordingly. It really made a difference knowing if we saw something that caught our eye, we could pull over and check it out.
We will continue to recommend your company to all that want the best of the best when touring Scotland/Ireland.
Take care,
Linda and David Chaney
Testimonial From Deb Pierce
Maurice, Sorry this took so long to send you.  I realize our trip was almost three months ago, but I have just finished printing all my pictures!  It was an amazing trip with views of Ireland I will never forget!  Austen was the perfect driver and tour guide – just the right amount of traveling and time to rest so we could enjoy the fantastic sights and the incredible hotels!  We felt so pampered.  My husband has decided he wants us to stay at Sheen Falls and Ballynahinch the next time we can get to Ireland.  Thank you for arranging such a great trip.  Deb Pierce
Testimonial from Shirley Marsden, New Jersey
My husband and I, along with our friends, booked a tour of Ireland and Scotland through a company that was recommended to us.
That company was Ireland and Scotland Luxury Tours.
From the point of booking to the journey to Edinburgh airport to catch our flight home it was excellent.
We saw the real Ireland and Scotland, met the locals, and made lifetime memories.
Castles, churches, coast, rolling hills, and rugged mountains – we saw them all.
The hotels were all excellent with huge breakfasts and sumptuous rooms.
We had nights in local pubs with live music and singing that were brilliant.
Our driver/guide (Austen) was simply the best.
He made sure we had a great time.
We will all now be recommending Ireland and Scotland Luxury Tours to all of our friends.
Thank you guys…….
Shirley, Martin, Steve, and Audrey
Testimonial from Mary Lou O'Mahony
Hi Maurice
I wanted to send a big thank you to you and your company for our wonderful vacation in Ireland.
I am not sure which was my favourite part but I think the tour of the Beara Penninsula is at the top of my list.
The hotel's were amazing and we had the best rooms with great views.
Once again thank you and I look forward to returning to your beautiful country.
Ireland and Scotland Luxury Tours is simply the best !!!
Mary Lou
Testimonial from Kate Lines, Canada
Thank you Ireland and Scotland Luxury Tours.
My five girlfriends and I recently spent a delightful week touring the south and north of Ireland with your driver, Austen.
From start to finish , our tour was wonderful – Dublin , Sheen Falls , Ballynahinch and Belfast.
Austen kept us entertained with his Irish wit and there seemed nothing too much to ask of him.
He was always agreeable to including last minute , happened upon , shopping stops and had a wondrous ability to find bathroom facilities in the middle of nowhere.
Our accommodations were top notch as well.
Thank you for so many memories of beautiful Ireland.
We will be back !!
Kate
Testimonial from Kathy Hennessey Forshey
A year ago, we were in Ireland. We had an amazing time and talk about it often. So blessed to have had the opportunity to experience the place where some of my ancestors came from. If your are looking to visit Ireland, I encourage you to look into Ireland and Scotland Luxury Tours we had an amazing time and Maurice Dowle was an amazing tour guide. Mo, I hope to see you again some day!
Testimonial from Michael H. Graham, MD, P.C
Dear Maurice ,
This letter is to send a huge "THANK YOU" to you for putting together a wonderful trip through the Emerald Isle for the eight of us. We have all arrived home without incident and with great memories of sights seen , outstanding lodging , challenging golf , food and drink at a very high standard , all at a very reasonable price.
First , Brendan was fantastic as our driver. His 10 passenger Mercedes minibus was just right to accommodate all of our luggage and golf gear and was very comfortable as we travelled along with plenty of room inside. Entirely reliable and punctual to the minute , he is an excellent driver on those narrow roads and we always felt comfortable and travelled stress free under his management. Beyond that , however , he was an excellent guide as well. He has a wealth of knowledge about the history of Ireland and the places to visit , fitting them in nicely with our itinerary but always with plenty of flexibility and presenting choices for group decisions. Lunch spots were always in welcoming local pubs with interesting and entertaining histories. Moreover he has a cheery , positive personality which made travelling with him for two weeks a delight …… he is good craic !
You have mentioned using our itinerary as a model for others to consider. We agree. We all agreed that limiting golf to every other day , as you recommended , was much better than setting off in a mad rush to travel and play on a daily basis. The route took us completely around the island giving us the opportunity to experience the lush green country of the south , the rugged mountains around Killarney and Kenmare , the barren landscape of Connemara , the incredible and highly variable coastlines and the many picturesque villages and lovely towns and cities. Belfast with the Titanic Museum ….. not to be missed ….. the beautiful marbled city hall and the sadly divided neighbourhoods with their street murals. Lunch at the historical Crown pub was a treat.
All of the lodging was over the top and two nights at each stop , except the Sandhouse , was just right. Each place was unique , very comfortable and well run.
The golf courses were great and provided a nice mix of the "famous" ……. Royal Portrush and Ballybunion ….. with the "local" ……. Ardglass (what a gem) and Donegal. Each was unique and very much a fine golf experience.
I could go on but you get the point ….. we four couples were very happy campers on a trip that you provided that went off without a hitch , provided outstanding lodging and sightseeing with great golf and with a driver and guide who was a treat to travel with. MANY THANKS !
Testimonial from Elaine Millar
Maurice,
I just wanted to take a minute to thank you for the wonderful Irish vacation you planned for us.
Our accommodations were top notch. The golf, while hard for me, was truly worth every penny of it.
Brendan was an exceptional tour guide. He was friendly, knowledgeable and flexible, even taking Rick and I to Waterford to see the Waterford crystal tour. I loved that! We found the Irish people to be wonderfully helpful, friendly and fun loving.
So for us, it was two memorable weeks.
Thanks to you!
Best,
Elaine Millar
Testimonial from Louie Carstairs, New York
Maurice ….. all we can say is …..WHAT A TRIP !
You made this very special for all of us.
From the kids to the grandparents we all enjoyed the tour.
To see so much of Ireland and Scotland in just 14 days was remarkable.
But to see it in such a relaxed way was even more remarkable.
It was only when we looked at our tour map that we realized where we had been and what we had seen !
The hotels were fantastic and the food was even better.
Thank you so much.
We will be recommending Ireland and Scotland Luxury Tours to all of our friends and as you know I am already planning a golf trip for next year with you.
Louie and the gang.
Testimonial from Beverley and Stan Salsberg, Toronto
Dear Maurice and Austen
On behalf of Beverley and myself I want to thank you for a job well done.
You promised a trip of a life time and you delivered !
We always felt loved and wanted in your presence.
The scenery is spectacular but the people are the ones that make Ireland special.
You and your staff are all that is wonderful about Ireland ,warmth , humor and  the gift of the gab.
The places you took us to and our accommodations were top notch.
The golf was spectacular and is a life time memory.
Everywhere we went from Southern Ireland to Northern Ireland everyone knew Maurice and Austen and all greeted us with smiles and respect.
You have  made this trip memorable and I would encourage anyone coming to Ireland or Scotland to use Ireland and Scotland Luxury Tours.
Best Wishes
Stan and Beverley
Testimonial From Carolyn and Howard Rose, Toronto
Hi Maurice
Do you miss us?
We arrived home safely from  our wonderful Ireland tour experience.
Thanks so much to you and Austen for providing us with such a well  organized and yet flexible tour of your beautiful country.
The scenery was spectacular!
Austen's stories gave us an additional history lesson!!!…
We appreciate all of the effort that went into this adventure.
Thanks also for the beautiful book of photographs of Ulster
Carolyn and Howie
Testimonial from Paul & Jane Beer
Guys,
Jane and I wanted to say a 'big thanks' for making her birthday trip such an enjoyable experience. From start to finish the trip was full of great memories and lots of beautiful scenery. How you managed to fix the weather like we had I will put that down to the luck of the Irish!
Thanks to Austen for his safe driving and great conversation. His life experiences and perspective added some great flavor which we both enjoyed.
General comment on the planning and booking process, Maurice, you made that the easy part and that is something that I expect sets your service apart. There was no hassle and you were open and flexible to changes as we did some more of our own research. Nice one!
Overall this was one of the best vacation experiences that we have had, thanks to you both for that! I would add that it was the first vacation without kids in a long time, that in itself was special.
Again thanks for everything, we will be recommending you to all our friends and family!
Great job, Paul and Jane.
Testimonial from Eva Nightingale
Dear Raphael:
Since today is St. Patrick's Day, we are thinking of you and the wonderful day we spent with you as our guide for a day trip out of Dublin on February 24, 2015.
Even though you could not control the weather we had a great time and appreciated your suggestions on how to make the most out of the limited time we had.
But even more important it was a great way to learn about the history and people of Ireland. Your enthusiasm for sharing your knowledge, humour and personal stories were better than any guide book.
We hope to return, with more time, and would live to have you guide us and educate us on other parts of the country on a tour of Ireland.
Good luck and we hope to see you again with Ireland and Scotland Luxury Tours !
Regards,
Eva Nightingale
Barbara Hennessey and "The Hennessey Clan"
Three generations of our family (8 of us) went on the trip of a lifetime …. an Ireland tour. I must admit that I was not sold on the idea of a tour guide in the beginning. My husband and I had visited Ireland a number of years ago, just the two of us, and we rented a car and went out on our own. It was a great trip, but years later, and a larger group, made me agree with my travel agent that this was the way to go. I am so glad we did. We had a wonderful time with no stress. Maurice took us to places that we would never have seen on our own. All of the hotels were taken care of for us and they were all great. Maurice was also very flexible with us. When we wanted to stop and shop, or change the itinerary just a bit, he would do so wherever possible. He had a great sense of humor which helped to pass the time as we drove from one destination to the next. Believe me when I say, this is the only way to go. This is the way for any tours of Ireland that you are planning. I would do it again in a minute. Thanks Maurice for the great time! Ireland and Scotland Luxury Tours are the best !!
Kathleen Weiss , Denver
My husband and I have just returned from the most wonderful tour of Ireland ! Ireland and Scotland Luxury Tours planned a trip for our anniversary and it was magical. We stayed at castles , we saw stunning coastline and scenery , and we ate like kings. They could not have done any better……it was perfect ! If you are thinking of visiting Ireland , and it is a beautiful country to see , then look no further than the Ireland and Scotland Luxury Tours team. They will create the perfect Ireland tours for all tastes and ages.
Rick Palmer , Conneticut
My family and I planned our tour of Ireland through Ireland and Scotland Luxury Tours this year. I didnt want to drive and we wanted somebody to take us to the "real Ireland" rather than the tourist hot spots. Maurice and his team created the most wonderful trip taking in all the "must see" attractions , but also all of the real hidden gems. Our hotels were superb and the food was excellent , but most importantly our driver/guide was simply the best. We saw the major sights but it was all the hidden castles , churches , beaches , and history that we will remember forever. If you are planning any Ireland tours then Ireland and Scotland Luxury Tours is the way to go. We certainly plan to return in 2015 !
Carol Hogan , Chicago
From May 12-24th, 2014 my husband and I (from Chicago) along with my sister and her husband (from Philadelphia) took a two week tour of Ireland with Ireland and Scotland Luxury Tours. There's so much good to say it is hard know where to start. If you are busy person and need a stress-free, five star vacation in Ireland – this is your company. The process was seamless and painless. I talked to Maurice Dowle – one of the owners of Ireland and Scotland Luxury Tours and gave him the general overview of what I wanted to do. This would be my third trip to Ireland (but everyone else's first trip), so I had a general idea of what I wanted to see. Maurice sent me an itinerary that, almost without exception, I accepted on the spot. Even if you don't know what you want to see in Ireland, trust me when I say that you can leave it completely up to this company and you will not be disappointed. This company and its employees have an in-depth understanding and knowledge of all areas of Ireland. You just need to tell them what kind of trip you want to have and they will custom build your itinerary. I also cannot stress how important it is to have someone drive you through Ireland. As I mentioned, on my last two trips to Ireland, I drove myself around and it was not fun. Having someone who knows exactly where they're going and who knows exactly which roads are good and which roads are not, is really an invaluable asset. It also removes an enormous amount of stress and time lost from your vacation. We were lucky enough to get Maurice Dowle as our driver and guide. He was everything that you would expect Ireland to be. He is funny and friendly and talkative and has a very deep knowledge of what you need to see, do and eat in Ireland. And if anyone out there still believes that the food in Ireland is sub-par, they are in for a terrific surprise. We had some of the best meals of our life on this trip. The hotel accommodations, which were all chosen by Ireland and Scotland Luxury Tours for us, were also top-notch. One of the intangibles that you also get by hiring this company is the ability to see an Ireland unobstructed by giant tour buses and thousands of tourists around the world all queuing up to see the same thing. While the Ring of Kerry is beautiful – it is no more beautiful than the ring of Beara, Slea Head Drive, or other amazing drives you can take on the island. We really felt like we had a private tour of Ireland. While we did hit a lot of the "touristy" spots, Maurice knew when to get there to avoid the coach tours clogged up the place. This was also invaluable to us. The bottom line is that our trip was everything we hoped it would be. And honestly, while these guided, private tours are slightly more expensive than some other ways of traveling through Ireland, once you do the math and add in a value for not having to drive yourself or figure out your own itinerary, it really is not that much more expensive and well worth the value. I am happy to talk to anyone about this company if you were thinking about taking a trip to Ireland. We really had an A+ wonderful experience
David Harper , Philadelphia
Hi Maurice (Big Mo)! I have never given testimonials ever! , but I feel compelled to do so in this case. Maurice (Mo), our recent trip to Ireland was a trip of a life time for us. Ireland and Scotland Luxury Tours is the best ! You knew all of the right places to go and when to go to them, the scenery was magnificent! However the only thing better than the scenery was (Mo), he quickly saw what we wanted to accomplish on the trip and the way we like to be treated, so he catered to that. Now mind you, he does like to stop for a scone and coffee every day, but saying that, he knew just where to stop for them ( a scone to keep ya going he would say…ha)! I would wish that everyone that visits Ireland could experience the same kind of two weeks that we did! Mo, thanks for your knowledge of Ireland and bad jokes…ha! You're the best and it showed! Cheers! Dave Harper
Randy Ford , Wichita , Kansas
Maurice: I hope all is well and you had a good holiday season. I was going through some old emails and realized it was a little over one year ago we started the process of planning our tour of Ireland. I wanted to let you know how much Jill and I truly appreciate everything you did to make our trip a wonderful experience. From the first time we spoke you not only offered advice but more importantly you listened to what we wanted from our trip. With your advice and counsel you made this a memory we will never forget. We are anxiously looking forward to our next trip to your beautiful country. One final note, while we appreciated your listening to our wants you actually prevented me from missing what turned out to be the highlight of our trip by refusing one of my ideas. On the fourth day of our trip we were scheduled to visit Kylemore Abbey and I wanted to remove it from our plans. Fortunately, you insisted we go and our time spent there was truly the highlight of my trip that included so many other wonderful memories. Once again, thank you so much for your wonderful service and our new found friendship. Please keep in touch and we look forward to planning our next trip. Best Wishes, Randy Ford Wichita, Kansas
Ed Blatter , Vancouver
My wife and I decided to take her mother to Ireland in October 2013. We contacted Ireland and Scotland Luxury Tours , who were recommended by a friend in Toronto , and we were impressed from the first email. The planning , the hotels , the sights we saw , were all of the highest quality. They arranged a tour that allowed us to enjoy ourselves with some golf and fishing but let my wifes mother see some churches while we did. Their level of service was exemplary and I would advise anyone thinking of visiting Ireland to contact Maurice and his team. Their tours of Ireland are simply the best !
Tom Carter , Wisconsin
Ireland and Scotland Luxury Tours planned our tour of Ireland in 2013. We had a wonderful time and saw the real Ireland in all its glory. Our driver/guide (Austen) was full of stories and history and nothing was too much trouble. The hotels that we stayed in were all quaint and authentic with very good with nice staff and very comfortable rooms. The places that we visited were just magical and we saw the major attractions but some memorable hidden gems. We ate in local pubs and restaurants and every meal was a treat. I strongly recommend Ireland and Scotland Luxury Tours if you are thinking of visiting Ireland. Their Ireland tours are simply wonderful !!!
Ray Prentis , Louisiana
We decided to visit Ireland in 2013 as my wife Darla had dreamed of visiting Ireland since she was a child. A friend recommended Ireland and Scotland Luxury Tours. They organised a romantic break for Darla and myself that we will remember for the rest of our lives. We stayed in castles , slept in four poster beds , had drinks in front of peat fires , and enjoyed eating like Irish kings. Though we saw a lot of churches , castles , and outstanding beaches , Kylemore Abbey just blew us away. If you want to see the real Ireland then travel with Ireland and Scotland Luxury Tours…..simply outstanding. We are already planning another tour of Ireland in 2015 with friends , and it will definitely be with these guys !
Dan George , Boston
Our trip to Ireland in 2013 was planned from start to finish by Ireland and Scotland Luxury Tours. All I can say it was a total success. A really unique Ireland tour for all the family. This company provided us with Stephen who was a great driver/guide , they booked hotels that were both comfortable and fantastically located. We saw some real hidden gems too. The restaurants they recommended were local and the food was wonderful. The music was great fun !! We are so glad that we asked them to organize our tour of Ireland. Definitely a five star experience all the way. If you want to enjoy Ireland then talk to these guys !!
Declan Mahoney , Boston
Ireland in 2013 exceeded all of our expectations ! We had planned to visit the "old country" for a number of years and we came across Ireland and Scotland Luxury Tours when we were looking into tours of Ireland. A chauffeur driven driven tour was not our first choice but as there was 6 in our party it actually was a reasonable option financially. The freedom it gave us was fantastic and our driver/guide blended in so much he just seemed like a family friend. At the end of the tour we considered Maurice more of a family member ! The hotels were exceptional and we really enjoyed our time in Ireland. Chauffeur driven tours are well worth considering for any Ireland tours , and if that is what you choose stick with the best "Ireland and Scotland Luxury Tours"
Barry Visser , New York
Ireland and Scotland Luxury Tours created the holiday of a lifetime for my wife and I this year. We were apprehensive about chauffeur drive , but what a great decision ! Everything was perfect from start to finish. The service begins when you arrive at Dublin airport and finishes when you check in for your flight home. The driver/guide was excellent and we have stayed in contact with Austen since returning home. The hotels were unique and simply perfect. There were a few that we didnt want to leave. If you want a tour of Ireland that takes you off the beaten track and lets you see the real sights and people , then look no further. Ireland and Scotland Luxury Tours will be our first choice when we visit Ireland again in 2014 !!
Jimmy Dusiter , Texas
We found Ireland and Scotland Luxury Tours on the internet and contacted them because we wanted a tour that was a little different to anything on offer from other tour companies. They created a tour of Ireland that included sightseeing , golf , sailing , and fishing. Everything we wanted and more. We even had the chance to try falconry. Some of the hidden gems we visited were spectacular and we were the only tourist there. Their choice of hotels and bases was ideal and our guides were all excellent. People had told me that the food in Ireland could be average but we had excellent food during our tour. From breakfast to dinner we ate very well and the soups and scones were our favorites. This company know how to treat clients and will make any type of Ireland tours the experience of a lifetime.
Burt Evans , Colorado
We used Ireland Luxury Tours in 2013 with our good friends Tom and Angela Martin.
They provided a comprehensive tour of Ireland with great historical sights and beautiful scenery. All of our hotels were excellent and our driver was fun and yet professional with a good knowledge of Ireland and its people. It was the people of Ireland that impressed us most though. They are friendly , welcoming and fun.
Our food was good and we all thoroughly enjoyed our tour. We will certainly be recommending Ireland Luxury Tours to our friends. In fact Tom and myself might even get over for some golf in 2014 !
Bill Clark, Washington DC
My wife found Ireland Luxury Tours on the internet and we inquired about a tour of Ireland.
From that email until we received an email checking if we had got home safely , it was a truly wonderful experience.
A great driver/guide , a lovely vehicle , and an itinerary that allowed us to see a lot of Ireland without leaving us feeling rushed.
The hotels were all excellent and very unique.
The food was superb throughout , too good in fact , as we all gained a few pounds !!
The price was more than reasonable for the trip and we thought it was great value when we realised what we had actually paid for.
If you are planning an Ireland tour forget about coach tours and driving , the only way to see Ireland is with Ireland Luxury Tours !!
Andrew Coulter , Toronto
We were looking for a tour of Ireland that was a little different.
In June 2013 we began working with Ireland Luxury Tours to find the most suitable tour.
We wanted to see some of the coast , churches , and castles plus a few hidden gems.
Maurice and his team came up with some great suggestions.
In October 2013 we arrived to spend the most wonderful 10 days in Ireland. Fantastic driver/guide , brilliant hotels , great local food and drink.
I want to thank Ireland Luxury Tours for creating the perfect (and I mean perfect !) Ireland tour.
We enjoyed ourselves so much we hope to return in the spring of 2014.
Robert Newton, Arizona
I arranged a tour of Ireland for my elderly parents , my wife , and myself through Ireland Luxury Tours and was delighted with the service provided.
Our driver/guide Austen was polite and knew a lot about the country and the history.
He made sure we had great hotels , great things to see , awesome local food and drink ,with live music thrown in.
They looked after everything and all we had to do was enjoy the trip. My parents fell in love with the place. They particularly liked Belfast.
We spent seven days in Ireland this year and will be returning for another ten days in 2014.
We will be travelling with Ireland Luxury Tours for sure.
Bert Ashby, New York
We used Ireland Luxury Tours for our family trip to Ireland in October 2013.
All I can say is WOW !!
From the minute that they met us at Dublin airport until the moment we returned for our flight home we were treated like royalty.
Our itinerary allowed us to take a leisurely tour of Ireland and see a lot of hidden gems and local attractions. We visited places that we had never heard of and loved them all.
The hotels were of the highest quality and the breakfasts were amazing.
Our driver/guide James was knowledgeable and professional throughout and in the end we felt like we were visiting friends in Ireland , thats how these guys make Ireland tours feel.
We even got our pictures taken with Rory McIlroys trophies !!
If you want to see the real Ireland , meet the real people , and be treated like royalty then contact Ireland Luxury Tours.
Mervin Levin
We planned our trip to Ireland this year with the help of Ireland Luxury Tours.
They created a trip which let us see the real Ireland and experience the people and the culture.
Their choice of hotels , restaurants , scenery , and places to visit , was superb.
Our driver/guide could not have been more courteous or done more for us.
If you are planning any tours of Ireland these are the guys to make it happen.
Howell Cheek, Arizona
We used Ireland Luxury Tours for our tour of Ireland in June 2013.
There were 3 couples and our driver was Austen.
From when we arrived at Dublin airport until we left the service was outstanding. The vehicle was a very comfortable Mercedes mini van and the routes allowed us to see the real Ireland.
Our hotels were fantastic and we even had upgrades to our rooms in some of them.
We ate at local restaurants recommended by Austen and the food was superb.
The highlight was staying in a real Irish castle !
We saw Kerry , Galway , Connemara , the North , and Dublin.
Ireland Luxury Tours certainly are the company for any Ireland tours and we will be recommending them to all our friends.
Mr and Mrs Richey, Sugar Land, Texas
My husband and I wanted to tour Ireland, but in our own way and in our own time.
I searched online and found "Ireland Luxury Tours" and Maurice Dowle.
What a trip!  Maurice planned and executed our dream journey through the Irish countryside.
Superb accomodation (think estates and castles) , unbelievable food (off the beaten path pubs and restaurants ), and last but not least, incomparable tours with just the right amount of flexibility and blarney to keep us thoroughly entertained.
We arrived in Ireland as strangers to a foreign land , we left totally smitten and linked forever to this wonderful country and its people.
Maurice and Ireland Luxury Tours made it all happen. We couldn't have done it without you!
Dr. LE and Shelley Richey
Diane Cannon, Laguna Beach"
We used Ireland Luxury Tours for our trip to Ireland and Scotland in 2013.
They helped us plan a tour of Ireland that suited our requirements and they chose the most wonderful hotels to use as bases on our trip.
We began in Dublin , then onto Kerry (staying in the wonderful Sheen Falls Lodge). From Kerry we drove past the Cliffs of Moher and the Burren to our third base Ballynahinch Castle. We had fishing lessons here and just loved the castle and its setting. A real Irish castle
Then we travelled North and based ourselves in Belfast. That was a very pleasant surprise. The city is lovely and full of friendly people. We saw the most spectacular coastline in the North.
From Belfast we took a fast and luxurious ferry to Scotland.
In Scotland we visited Stirling castle and stayed in a hotel on the banks of Loch Lomond.
Then we travelled to Inverness and took a boat trip on Loch Ness. Again our hotel , the Loch Ness Country House , was awesome.
We finished our tour in Edinburgh.
Ireland Luxury Tours were simply wonderful throughout and i would not hesitate in recommending them to anyone thinking of taking a private Ireland tours or Scotland tours.
Joni Fontaine
My girlfriend and I used Ireland Luxury Tours and I must say it's the only way to see Ireland and Scotland.
In 14 days we covered so much of both countries and even had time to stop at several pubs along the way. We started in Dublin and finished in Edinburgh.
It was quite simply superb…no driving , no thinking , just relaxing…..and the hotels were all perfect.
With the personal service and expertise, we highly recommend this tour for everyone…for all your Ireland tours and Scotland tours contact this company !!!!
Ian and Debbie Campbell, Australia
I arranged a tour of Northern Ireland and Galway & Dublin for a group of 12 people using Ireland Luxury Tours, I cannot speak highly enough of Maurice Dowle and his team who worked closely with me over a 12 month period to ensure that we saw the best of Scenery , Cultural attractions , Historically important places, and of course the World Class links courses that abound in Ireland.
Maurice and his team were creative in the lodgings chosen for the group and the whole experience was wonderful . A fantastic tour of Ireland !!
At the end of the tour my wife and I extended our stay for 4 extra days during which I broke my ankle, the support provided by Maurice was wonderful and helped greatly in my overcoming of the disappointment of having to cut our holiday short. I and many of the group will certainly return and would not consider any tour operator other than IRELAND LUXURY TOURS.
Jill and Randy Ford
May 2013
Thank you so much to Maurice and his crew for a fantastic coastal tour of Ireland for our combination celebration of 50th birthday and 25th wedding anniversary.
It was our first visit but will definitely not be our last.
From step one at the airport to the final step at our hotel in Dublin it was a perfect trip.
Not only was each stop on our tour personalized just for us, it felt like you were having as much fun as we were.
The scenery was stunning and the stories quite memorable! Especially Aughnanure Castle and Ballynahinch Castle and the local pubs.
Your quips about the culture, the cuisine and the castles were spot on!
Our time spent in Ireland seemed idyllic since about an hour in Ireland means more than an hour and you don't even notice it passing.
Also novices shouldn't really drive in Ireland…………. leave your Ireland tours to Maurice!
Mike and Lyn Phillips, Australia
Hi Mo, Just wanted to say a big thank you to you and your team for a great holiday experience on our tour of Ireland.
Our personalised tour was a mix of stunning countryside, Castle visits, Golf, outstanding accommodation and lots of fun, laughter and coffee with scone stops. Plus great hotels !!!
Your history knowledge tempered with witty anecdotes kept us all amused.
We appreciated not having to stand in lines for tourist spots, and loved the quiet drinks in the local pubs. Even the Bushmills Whiskey on the morning porridge will stay in the memories.
The extra touches you planned along the way indicated the professionalism of your attitute.
Best wishes Mo, I will keep the eyebrows jumping!
Mike and Lyn Phillips. Nelson Bay. Australia.
Barbara Carson"
Hi Maurice-
Hope this finds you and your family well.  Please accept our belated, yet heartfelt thanks for your great care on our golf tour of Ireland.
We had to listen to our boys saying "We miss Maurice"  all over Scotland!  They may have just been thirsty and longing for another Baby Guinness or Magners?
Best wishes for a happy, healthy 2013.
Cheers!
Barb and the Carson guys
Pat and Hilder Patrick
Congratulations on your Team Europe victory! What an amazing come-from behind. Hilda and I hope you were watching every moment, as were we.
Rory's tardiness on arrival Sunday might have changed the entire end result. Perhaps he still needs a "chaperone" such as you to monitor things such as time zone differences.
Once again, thank you for your personal touch making our first visit to Northern Ireland such a pleasure.
Please do not ever get anywhere near Atlanta for whatever reason without letting us know so we can have an opportunity to repay your wonderful guiding and hospility.
"Pat" and Hilda Patrick
Rita Law
Maurice, Greetings from across the Pond
There is a gentleman, Dick Murphy, who runs Mrs. Murphy's Irish Shop here in Sioux Falls, SD.  A short time ago I stopped in and he told me that he very much wants to arrange a trip this coming Spring for a family outing in Ireland.  He, too, believes that to see Ireland –Northern Ireland has to be part of the itinerary.
I told him how much Mary Jane and I loved traveling with you especially since you are a true Northern Irish.  Wanted to contact you and make sure that Ireland Luxury Tours is still your passion.  After all much can change in three years.  Looking forward to your response, Maurice.
Toodles,
Rita
Ed Katz
We had a great time with you.
Your tour of Belfast and the North Coastwas the highlight of our cruise.
Stay well.
I am walking now without the cane.
Be careful playing rugby.
Eddie
Donna Nall, Atlanta, Georgia
Hi Maurice,
We are back home in Georgia! I wanted to thank you for such an amazing trip.
You really went out of your way to make it special.
It is rare that you meet a person that can easily win over both the women and the men. You did it!
Don, Toni, Bonnie and Jeff were all so happy and that is what we were after. Of course, you made the trip memorable for Jimmy and me too. It felt like we were with an old friend.
Toni Davidson, Atlanta
Thank you so much for making our trip to Ireland complete.
You evidently have a good business plan…client focus and satisfaction.  We appreciated Maurice in every way.  He was personable, flexible and as much a pleasure as the tour itself.
Heather Connelly,
Hi Maurice,
I am sharing the email below from Heather Connelly, as I know only too well how nice it is to receive kudos for our hard work and diligence in arranging travel for our clients so they will have a wonderful, stress fee trip and a life time of memories.  Sounds like you did your work well!  Thank you for all you did to make this happen.
'Belfast – the Europa Hotel was AWESOME!! I loved it! I loved the location, the room, the hospitality was absolutely out of this world! Everyone we encountered in Belfast was fantastic. Our guides – we loved them! Austen was fabulous and a great companion. He was so wonderful in moving the car around to make it easy as possible for my mom & Clem and eliminate uphill walking where possible. He was terrific. And they just raved about Mo, as well. They were really, really wonderful. I truly cannot say enough good things. I loved everywhere that we went (Scrabo tower was my favourite!) and the pace was "right on". I wish I could go back 
 I definitely recommend northern Ireland. I know folks are nervous (I was), but it was wonderful. I'm glad we went.'
Kind Regards,
Marina
Nacco Testimonial
"Thank you so much, again, for all your help, support, and friendship, during our corporate event in Northern Ireland.  The service you provide is exceptional, and helped make our dreams and ideas a reality.  Nothing is ever too much trouble and your knowledge of the area, and understanding of what would work for us, is outstanding.  We simply couldn't have done it without you and your team.  Thank you, until the next time!"
Kind regards,
Karen
Richard Schmelzle
Exactly a century ago two families, one from Belfast and the other from Hilltown, County Down, emigrated from Northern Ireland to Toronto, Canada. In the ensuing years, not one member from either family ever returned to visit their homeland.
A little more than twenty-five years later, the daughter of the Belfast family, Edith Dempsey, and the son of the Hilltown family, John Perry (Jack), met in Toronto, fell in love and married. And there, as the saying goes, our story begins. Edith and Jack Perry's family consisted of five children – four daughters and a son. Although they were both very proud of their Irish roots, neither had any recollection of Ireland as Edith was born in Toronto and Jack was only four years old when his family left for a new beginning in Canada. Yet, they taught their children to appreciate their Irish heritage and to wear it proudly.
Over the years the children often talked of visiting Ireland. They had all married and now had children and grandchildren. The possibility of a group visit became a distant dream. But dreams can sometimes come true and in 2011 a plan came together to bring family members from: Arizona, North Carolina, Nebraska and Toronto to meet in Belfast for a family heritage visit to Ireland by the four sisters.
A tour operator was located and plans began to evolve. It became clear that the most viable idea was to hire a company to chauffeur the group. A tour company was found and engaged. It was at this point that the entire trip began to unravel. In order to travel in a mini-van, the travellers would be allowed only one backpack each – as there was not sufficient room for luggage. The itinerary was crowded and little time would be left to see important places. Every day there was a new problem to solve.  We were only a few weeks from our departure date. Would our trip become untenable?
A conversation with an ex-pat Northern Irelander led to a telephone call to England and an enthusiastic recommendation of Ireland Luxury Tours. Maurice Dowle quickly responded to our pleas for help even though he had no expectation of becoming our tour guide. His excellent knowledge and confident recommendations brought instant logic to our itinerary. He suggested a larger vehicle with ample legroom. He worked with us for several days fine-tuning our itinerary. It became obvious to us that we should use Ireland Luxury Tours. The decision was made – and we are totally delighted with it.
Day One – Dublin and Hilltown
Some of our group were arriving in Belfast, others in Dublin. Maurice suggested that he would bring the group from Belfast with him to meet the others in Dublin. This manoeuver virtually gave an additional day for sightseeing.
Indeed, we were able to visit Hilltown on our way back to Belfast. In Hilltown, we found the exact location where our Father's family had lived. The view of the Mountains of Mourne was exactly as our Aunt had described it to us. Maurice talked to a local couple who told him of an old church and cemetery nearby (which we would have never found on our own!). We knew that our Father, our Grandfather and our Great-Grandfather had been born near Hilltown and were thrilled to find graves clearly marked "Perry". Maurice then took us to Dundrum Castle where the Lord of the area, which included Hilltown, had resided. A perchance meeting with the caretaker of the castle grounds added additional information to the visit. Imagine our delight, only a few hours in Ireland and already we had found valuable family history!  Elated, we continued our journey to Belfast.
Day Two – The Giants Causeway, Dunluce Castle and Bushmills
A relaxing evening, a very sound sleep, a delicious Irish breakfast at the Europa Hotel and we were ready for a day of exploring the East Coast and Giants Causeway. We were totally entralled with the beauty of this "Emerald Isle". The perfectly laid out fields of green, hedges trimmed to perfection, quaint houses and the rugged coast. The drive was spectacular, puctuated by our "ohs" and "ahs". Soon we arrived at the Giants Causeway – a sight that must be seen to be appreciated. The legend of Finn MacCool as recounted by our tour guide entertained us as we travelled to the rock formations. Even a sudden rain shower didn't dampen our spirits. Dunluce Castle is definitely not to be missed. The history and rugged beauty of its surroundings are incredible as are the views of the west shore from the castle . Maurice knows his history and shared interesting facts and tidbits as we toured the grounds. It was definitely time for lunch and the Bushmills Inn was the perfect spot to enjoy the local offerings.
Our relaxing drive back to Belfast included wonderful shoreline scapes and were highlighted by Maurice's sidebars – including local facts and Dowle humour. We arrived back in time for a tour of Belfast and a scrumptious dinner at the Crown Bar – which, of course, included Sticky Pudding for dessert.
Our evening also included a taxi ride to the addresses where our Mother's family had lived. Once again, a wonderful surprise awaited us. We were able to locate two addresses where our Grandmother's family had lived. The houses on Bradenburg Street were boarded up ready for urban redevelopment but were still standing as they had be in 1900. The Acton Street houses were exactly as they would have been when our Grandmother's family lived there! It was absolutely magical to be transported back in time to see them as they have been for 100 years. Thus, Day Two also gave us another heritage gift and additional pieces to add to our family story.
Day Three – Campbell College, Magheraveely, a Boat Trip, Devenish Monastery and Ballynahinch Castle.
I had expressed to Maurice that C.S. Lewis is a favourite of mine and that I hoped to see the statue of him in Belfast. Always the consumate guide, Maurice explained that Lewis had attended Campbell College – and Maurice just happens to be one of the Campbell College Rugby Coaches. Before leaving Belfast, we were whisked off for a tour of the campus, where Maurice showed us the famous lampost from Lewis' stories and told us little-known anecdotes about the famous author. Our brother-in-law also has family roots in Ireland and a stop in Magheraveely was included. As we travelled by private boat to the 4th Century Monastery on Devenish Island, Maurice, always the gallant host, provided a picnic lunch for us to enjoy. Then it was on to Ballynahinch Castle where another amazing surprise awaited us. Our brother had not been able to join us for this trip – or so we thought – but when we arrived at the castle – our brother and nephew were waiting for us. Once again, all of the arrangements had been managed by Maurice.
Day Four – Aughnanure Castle. and family time over dinner at Ballynahinch Castle.
We spent two wonderful days with the entire family together at the Ballynahinch Castle, visiting Aughnanure Castle and shopping in Galway. Our time could not have been better. All, of course, arranged by Maurice!
Day Five – The Connemara Mountains, The Cliffs of Moher, and The Burren.
Our family time was over all too soon as our brother and nephew had to return home. It was a very short, yet absolutely perfect visit. Once again, thanks to Maurice for arranging all of the details. As they left for home, we journeyed on to visit the Cliffs of Moher, the towns of the Beara Peninsula and Kenmare. arriving in Kinsale – a picturesque fishing village on the west coast. Once again, Maurice found the perfect place for a delicious dinner. It was a balmy evening and after dinner we enjoyed a short walk around Kinsale.
Day Six -The Ring of Beara
This would be our final day of travel. We have fallen in love with the beauty of this Isle and want to drink in all that we can before we have to leave.
Day Seven – Dublin
We want to be in Dublin early so that we can enjoy as much of the city as possible. Maurice would be leaving us there and we plan to explore the city on our own before boarding our flight home early the next morning. We have not had nearly enough time but that means that we must return for another visit very soon.
We cannot say enough about how excellent Ireland Luxury Tours and Maurice are. Maurice wisely advised us not to try to do too much. He was absolutely correct. By pacing ourselves, we were able to be relaxed and well-rested. A fuller schedule would surely have drained us and we would have missed so much.
We highly recommend Ireland Luxury Tours. We know that any of their capable tour guides would have given us an amazing tour.
We cannot say "thank you" often enough. The Perry Family Heritage Tour of Ireland not only met but greatly exceeded our expectations. Thank you Mr. Dowle!!
Ruth Dewitt
This testimonial is very late but heartfelt. This summer on a tour arranged by Sandra Fraser, you were kind enough to be our host. We had a wonderful day exploring and seeing sights that we could not have seen on a large tour bus. We look at the pictures we took and marvel at the  sights. Thanks again.
This was a delightful party of people from a cruise ship that visited Belfast and took one of our extended Belfast tours.
Mehendra Daga, New Dehli , Boston
First of all let me assure you that our tour of Ireland was very satisfying.
And your role in making our trip a memorable was excellent. We did enjoy your company; our coffee breaks, pubbing and then our wine dinners and of course "one more" (picture).
But I do not want to miss out on the many beautiful spots that we saw.
We are certain you too will remember for long the favorable weather conditions that we were fortunate to have. I believe it is rather rare to go through 10 days of weather god smiling on us.
With all the best and warm regards from both of us,
Mahendra
Petra Pazurikova
I just want say big thank you for organizing our whole customer visit in Dublin and Edinburgh. Everything was prepared whithout any problems.
The hotels and restaurants was choosed very smart and was very "stylish". Also program was according time selected very appropriately.
Our customers was satisfied and that was our goal.
Thanks one more time.
Robbert Winjnandts
Hi Maurice,
What an enjoyable trip we did with Ireland Luxury Tours!
ILT has a well-known reputation within our company with large groups of business people for years now.
This time we booked for a smaller group of 11 business people.
On time pick up as agreed, professional socially well-developed skilled driver. (Stephen you're the best!)
ILT can prebook the best rooms in best hotels for you, not to mention the best restaurants.  No problems with unexpected changes in the schedule, unknown flexibility.
I would recommend ILT to anybody planning to do a trip to Ireland.
Till next time!
Sandra Fraser"
Hello Maurice,
Ken and I thought about you today while we were watching Rory win the golf tournament and become the #1 golfer. We still thank you for the wonderful Belfast tour.
It was great to visit the Portrush Golf Course and also see such wonderful beautiful sites in the area. You will certainly be the company our travel agency uses when we have people requesting Ireland tours. You made it so much fun. You and our friend Carol made our tour fun. Her husband had just died a few months prior to the cruise (he was a wonderful man) so it was great that you and she had this fun conversation going on during our tour. We do not see her that often because she lives about 4 hours north of us but we hope to see her this spring when we get up north to her area. I will be in touch if we have clients in the Belfast area. Thanks again for the wonderful tour.
Sandra Fraser
Wilson and Elaine Coulter, Arizona
Recently, my wife and I and four additional members of our families had the enviable opportunity to visit Ireland. Our objectives were to enjoy the incredible beauty of the emerald isle and to discover the roots of our families.
Our seven day tour of Ireland turned out to be the experience of a life time for all of us and the success of our trip was largely due to our driver, trip advisor and, at times our confidant.
Maurice was an excellent driver and had extensive knowledge of this glorious island.
He planned and brought to fruition a tour of Ireland which more than met our highest expectations.
In addition, he was a wonderful communicator and he kept all of us well informed of our surroundings along with delightful of his unique Irish humour.
If any of us were to return to Ireland for a second tour, Maurice would be our first, second and third choice to be our tour director. If you miss Maurice, you have missed the best!
Wilson and Elaine Coulter,
Cave Creek, Arizona, U.S.A.
Jana Flashing, Chicago
Ireland Luxury Tours went above and beyond our highest expectations on every aspect of our tours. Our guides gave us just the right amount of information and history, showed us the main sites on a schedule that avoided the large tour crowds, and took us off the beaten path to some little "gems" we would not have seen otherwise. Maurice and the other guides really know their country and have a passion and pride about Ireland that is contagious. We will definitely be contacting Ireland Luxury Tours again when we return.
William Davin, Washington
"My Mother and I hired Ireland Luxury Tours to conduct a 5 day private Ireland tour of Counties Mayo and Galway.
We enjoyed it very much and would highly recommend Ireland Luxury Tours.
The tour guide was professional and very knowledgeable.  He was very enthusiastic about helping us locate the places in County Mayo where our ancestors are from.
I also liked it being a private tour (as opposed to a group tour on a large bus) where we were driven in an SUV.
A lot of Ireland's roads are very narrow and it is hard for large buses to drive on them."
Sharon Lindner, Ontario
Comments: I have just returned from a two week golf trip with three girlfriends. Maurice and our other driver Austen made this first trip memorable and unforgetable. They were both so knowlegable,accomadating, and eager to please and were the epitomy of Irish hospitality.Everything was first class from start to finish and it was so relaxing not having to worry about driving, organizing tours or making dinner reservations. I can't imagine my next trip to Ireland without them!!
Sandra Fraser
Maurice,
How lucky I was to find Ireland Luxury Tours with Maurice for a tour of the Irish countryside.
I live in a development with many golf course street names. Our street is Portrush, so when I realized how close we would be to Portrush Golf Course while on a British Isles cruise, I started looking for a tour company that would take us to the golf course for a stop and pictures along with seeing castles, the Giants Causeway and other scenic vistas.
And then I found Maurice  and Ireland Luxury Tours.
We were a group of 15 who had never been to the Belfast area before.
Maurice customized a tour for our group.
He and David met us at the Belfast cruise port and we were on our way.
We were able to spend time and have pictures at Portrush Golf course, see Giant Causeway, Carrick-a-Rede Rope Bridge and Dunluce castle.
We had lunch at Bushmills Distillery and then continued along the coast to see more beautiful scenery.
Maurice really customized the tour for our group which was very important to our group. He and David were terrific tour guides/drivers. You will love Maurice's sense of humor and his knowledge of the area.
Carol Kay, Michigan
On a recent cruise of the UK, we got tired of the ho-hum group trips offered by the cruise line and opted for a private tour when visiting Belfast.
We had an outstanding, personalized, informational and entertaining fun tour that day.
Maurice did a great job of taking us on a Belfast tour and beyond , where we had a chance to visit some great attractions including the Giants Causeway.
He's very informative and knowledgeable about the area and I had a great time teasing him throughout the day.  He took it in his stride and even offered a few zingers of his own!
Our whole group really enjoyed ourselves that day and I think Maurice enjoyed us, too!!
Our Belfast Tour was definitely one of the great highlights of our trip. I highly recommend this company for a personal tour!  It was definitely a great change from the "not-to-exciting" cruise ship tours.
Rick and Theresa Sands, Michigan
HI,
To those interested in visiting Belfast we highly recommend that you contact Maurice.
On a recent trip Maurice shuttled us around to the main tourist attractions and  to places that allowed us to get a real feel for the country and  the people.
Not only was Maurice extremely professional he was  very knowledgeable and entertaining .
It definitely was the highlight of our trip to the British Isles.
Contact Maurice to arrange your tours of Belfast or tours of Ireland.
Rick and Theresa
Bonnie McCall
Maurice—–Wanted to thank you for a wonderful day under your tutelage.
I was with the group led by Sandra Fraser.
You got us into and out of the attractions when there was less traffic, gave us some a running commentary of interesting facts, what we needed to know, without boring us.
Your choice of the Bushmills Inn was enjoyed by all. Thanks again for a beautiful peek of Ireland. Have brought home some great memories.
Bonnie McColl from Michigan, USA
Karen Whitear
Dear Maurice
Our event transfer requirements were quite complicated, but I could relax knowing that you were in control, organised and professional.  Your attention to detail and care of my guests ensured that our event went without a hitch.  You and your staff conducted themselves always in a professional and courteous manner, often going beyond the call of duty to provide additional support or advice.
Thank you for all your support, it was a pleasure doing business with you.
Kind regards
Karen Whitear
Dave Boswell, Vancouver
It's time we sat down to tell you how very much we enjoyed the tour, and your company.  The itinerary you put together for us helped to make our trip memorable and the highlight of our European vacation.  Your easy-going style and knowledge of the Irish countryside helped give us insight into the Ireland not typically seen by tourists.  This was one of the main criteria we set for you during our discussions prior to signing on with Ireland Luxury Tours and you managed to exceed our expectations.  An Ireland tour to remember !!!!!
We hope that's not too long for a testimonial…  We have been asked a hundred times already what part of the vacation we liked the best.  "Debs"
and I have both decided that our Ireland tour was, for us, the highlight.
We were honoured that you would take us to your home to meet your family.
You have a remarkable family to be able to greet strangers so graciously.
You helped to make us all feel like friends roaming the countryside not a tour guide and clients.  You'll be happy to know the "package" arrived safely and all contents were intact.  We have spoken of you often and fondly since our parting in Dublin.  We've even taken to watching the odd rugby match!!  The "quiet man" hat looks pretty good in the convertible too!!
Jeff and Shauna Fortin
We have travelled much of the world, seen lots
If you want a trip you won't forget
If you want to see the "real" Ireland
If you are looking for real value
For just a bit more than the crowded bus tours on Ireland tours
Treat yourself to see Ireland with Maurice and his team
A once in a lifetime experience
Jeff and Shauna Fortin
CHILLIWACK BC Canada
Pat Patrick
Thank you for organizing my recent Northern Ireland tour. All the golf arrangements went off without a hitch.
Portstewart is wonderful. We received a cordial welcome and enjoyed a great lunch in the grill room overlooking the course. Our caddies were noteworthy. Not only were they invaluable in helping us with the task at hand, they were also personable and welcoming members of the club. Despite that, they could not control the weather, and agreed with us to leave the course as hail began to fall on the 15th tee!
High winds and rain also accompanied us most of our round the next day at Royal Portrush. Once again, our caddies not only helped us immeasurably confronting the challenges of the course, but also helped us confront the challenges of the weather. They, too, were members of the club, and great ambassadors. Stephen played also and was very helpful.
Finally, at Royal County Down, the rain subsided, but not the wind, which actually intensified. Once again, our caddies made the difference, not only in our scores, but especially in our enjoyment of the experience.
But the best part of our tour was our driver/guide, Stephen Burnside. Simply stated, Stephen was fantastic. Personable, polite,flexible, advisory,knowledgeable, interesting, and punctual.